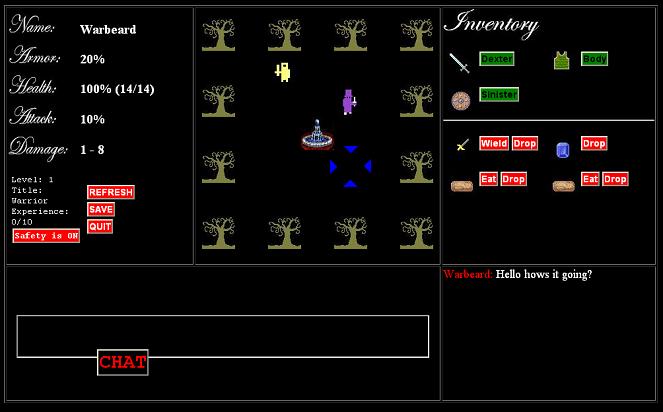 1. HOW TO CREATE A CHARACTER
The first step is to make up a name. This name will be used to create your profile and name your character. The password is optional. Then pick an icon or download your own. Lastly choose a class. There are four choices. Clicking the character class button will enter the game.
---
2. HOW TO MOVE
Click the mouse inside the map in the center. An arrow animation shown in the picture will send the character to that location even if it is several steps away. When you stand on the edge of the map you will be pulled into the next area. If you click on the character it will not move into the next area. Click on the character to toggle this effect.
---
3. HOW TO PICK-UP ITEMS, ATTACK, AND MAKE FRIENDS
All three of these functions are done with the mouse clicks as described above. To pick something up click on the item. The character will walk over to the item and pick it up. Attacking is done by moving into an opponent. If it is another player, it will instead befriend the player and add him or her to your FriendList which can be viewed on your profile. To attack another player and not make friends you must click the 'Safety is ON' button which changes it to 'Safety is OFF'
---
4. HOW TO CHAT
Chatting is done by typing and then pressing ENTER. Any typing will appear in the blank line at the bottom of the page. When you are done typing press the CHAT button in the lower right OR hit the ENTER key. What you say will be read by everyone in the vicinity. Use arrows keys to see chat stack.
---
5. HOW TO USE STORES
Click on a store to enter. Inside you will see goods for sale. 'Walk into' an item on display to see if you can afford it. Click the BUY button in the lower middle of the screen to purchase the item if you are able. 'Walk into' a shopkeeper if you wish to sell back items that are available in this store.
---